Are you considering taking the plunge into adult martial arts classes at 4GK Martial Arts but feeling a bit overwhelmed? Do you picture a martial arts school filled with seasoned practitioners executing perfect punches and kicks while you awkwardly fumble your way through the routine?
I've been there. We've all been there. After almost 30 years of training, I still get things wrong! It's like being a puppy in a big, new world filled with excitement and a bit of trepidation. And speaking of puppies, allow me to introduce my adorable chocolate lab—Andromeda, or Rommie for short. Her middle name is Wasabi because she is a little bit spicy.
Rommie spent the first few months of her life in a cast with a broken leg.  Now, at just seven months old, Rommie is a ball of energy and curiosity. She's constantly exploring her environment, learning new things, and, inevitably, getting into a bit of mischief. And through all her puppy adventures and misadventures, she has unwittingly become my sifu—teaching me important lessons about martial arts in the most unexpected ways.
From her boundless enthusiasm to her resilient spirit, Rommie's journey mirrors the experiences of a new martial arts student. Let's dive in and see how her puppy wisdom can guide you through your martial arts journey, showing you that, with the right mindset, it's not as daunting as it seems. So, get ready for some tail-wagging wisdom from my spicy pup, Rommie!
1. Mastering the Art of Discipline: From Puppy Training to Martial Arts Training
Let's talk about sneakers. Specifically, my favorite pair of sneakers, which Rommie decided were her new chew toys the day she arrived home. Every time I turned around, there she was, gnawing away at the slipper as if it were the most delicious treat in the world. I can't count the number of times I found myself exclaiming, "No, Rommie!"
Training Rommie to leave my sneakers alone was a test of patience and consistency. We had to set clear boundaries, be persistent, and, most importantly, practice positive reinforcement when she finally chose her chew toys over my sneakers.
Stepping into a martial arts school for the first time is not much different. As new martial arts students, we're a bit like Rommie, excited, eager, and sometimes, we find ourselves metaphorically chewing on the wrong slipper. We might struggle with a new technique, fumble our stance, or throw a kick in the wrong direction.
But, just as Rommie learned to leave my sneakers be, we too learn to refine our techniques through discipline and consistent training. It's this discipline that transforms our raw, puppy-like enthusiasm into a graceful kata or a powerful punch. We might not get a treat every time we execute a move correctly, but the sense of accomplishment is a reward in itself.
So, the next time you find yourself struggling in class, remember Rommie and my chewed-up sneakers. Just as she learned to respect boundaries, with discipline and consistency, you too can master your martial arts techniques.
2. Persistence and Patience: From Fetching Balls to Mastering Martial Arts
Rommie's first encounter with a ball was a sight to behold. She was fascinated by this strange flying object, and her attempts to catch it were comically unsuccessful. She would run at full speed, leap into the air, and land with a thud, the ball soaring untouched above her. But did she give up? Not a chance. Rommie's spirit was undeterred. She kept running, leaping, and yes, face-planting, until one glorious day, she caught that ball mid-air. Her tail wagged so hard, I thought she might take flight again!
Starting martial arts can feel a lot like Rommie's ball-fetching endeavors. We step onto the mat, eager to learn, but our first attempts at a spinning kick or a complicated kata might leave us feeling like we've face-planted. That roundhouse kick doesn't quite land, that punch doesn't pack the power we want it to, and we might even trip over our own feet while learning a new routine.
But like Rommie, we must embrace the art of persistence. Each missed kick, each fumbled stance is not a failure, but a stepping stone to mastery. We keep practicing, fine-tuning our moves, refining our technique, until one day, we land that perfect kick, execute that kata flawlessly. It's our ball-catching moment, and it's worth every stumble along the way.
Remember Rommie's ball adventures whenever you find a technique challenging. Just as she persisted until she caught her ball, with patience and persistence, you too will master your martial arts techniques. And trust me, the joy of that moment will have you wagging your tail—figuratively, of course!
3. Playfulness and Joy: Turning Lessons into Fun, Puppy-Style!
There's something magical about watching Rommie play. Whether she's wrestling with her favorite stuffed animal or running wild at the dog park, she brings an infectious joy to every activity. One of her favorite games is "hide and seek" with the sticks she brings home. I hide them, and she sniffs them out, tail wagging like a helicopter blade, excitement radiating from her as if she's just discovered a hidden treasure. And in a way, she has—the joy of play.
Now, you might be wondering, what does Rommie's playtime have to do with martial arts training? Well, a lot, actually! Training in martial arts doesn't have to be all serious and stern-faced. Yes, we're learning important techniques and cultivating discipline, but who says we can't have a little fun while we're at it?
Just like Rommie's game of hide-and-seek, martial arts can be a thrilling journey of discovery. Each new technique you learn, each kata or form you master, is like finding that hidden stick—it's an exciting achievement that fuels your passion for learning more. As adults, we sometimes forget to incorporate joy and playfulness into our learning process, but Rommie's enthusiastic approach is a reminder of how it can enhance our training.
The martial arts school is not just a place for serious training, it's a playground where we grow, learn, and have fun! So, channel your inner Rommie the next time you step onto the mat. Embrace the joy of learning, turn your training into play, and watch as your martial arts journey becomes an exciting adventure. And who knows, you might just find your tail wagging too!
4. Resilience: Emulating Rommie's Bounce-Back Spirit on the Mat
Have you ever watched a puppy trying to climb a set of stairs? It's a roller coaster of emotions—part awe at their determination, part anxiety as they teeter on a step, and a whole lot of admiration when they finally conquer that mini mountain. This was my experience with Rommie.
The first time she encountered stairs, she was baffled. She'd climb a step or two, then tumble back down, landing in a fluffy heap at the bottom. But Rommie, being Rommie, didn't let that stop her. She'd shake it off and try again, and again, and again, until she finally made it to the top. That moment was a testament to her resilience and ability to fall down, get back up, and keep trying.
Much like Rommie's stair-climbing adventure, martial arts training is a journey marked by moments of falling and rising. We might lose our balance during a challenging pose, miss the target during a punching drill, or get knocked down during sparring. But, much like Rommie, it's in our nature to get back up and try again.
Resilience is an essential part of being a martial artist. Each stumble, each fall, is an opportunity to learn, to grow, and to come back stronger. Remember, it's not about how many times you fall but how many times you rise that counts.
The next time you find yourself on the mat, think of Rommie's tenacious spirit. Embrace the falls as part of your journey, get back up, and keep going. After all, if a spicy little pup like Rommie can conquer a staircase, you can surely conquer your martial arts training!
5. Socialization: From Rommie's Dog Park Adventures to the Power of Dojo Community
One of the highlights of Rommie's week is her visit to the local Mud Creek Dog Park. There, she interacts with a variety of other dogs—big and small, young and old, playful and serious. Each encounter is an opportunity for her to learn something new. She learns to communicate, to understand boundaries, and to make friends. It's a socialization experience that plays a crucial role in her development.
Similarly, joining a martial arts class is not just about mastering techniques—it's also about becoming part of a community. When you step into 4GK Martial Arts, you're not just entering a training facility but joining a family. Much like Rommie at the dog park, you'll interact with people from different walks of life, each with unique skills and experiences to share.
Your fellow martial artists will become your sparring partners, your mentors, and your friends. They will cheer you on when you succeed, lend a helping hand when you stumble, and push you to reach new heights. You'll learn from each other, grow together, and build a bond that extends beyond the dojo walls.
In the martial arts school, just like in the dog park, every interaction is a learning opportunity. It's this sense of community, this shared journey of growth, that makes martial arts training a truly enriching experience.
So, as you embark on your martial arts journey, embrace the power of socialization, just as Rommie does at the dog park. Engage with your dojo community, learn from your peers, and remember—you're not just joining a class, you're becoming part of a martial arts family.
Embrace the Puppy-Spirit in Your Martial Arts Journey
As we wrap up this playful romp through Rommie's world and its parallels to martial arts, let's take a moment to appreciate our furry friends' simple wisdom. Rommie's adventures—mastering the stairs, playing hide-and-seek, or socializing at the dog park—are powerful reminders of the values we strive to cultivate in our martial arts journey.
Martial arts is more than a form of self-defense—it's a lifestyle that embodies discipline, patience, joy, resilience, and a sense of community. And guess what? You already have all these qualities within you. If a spicy, seven-month-old chocolate lab like Rommie can embrace these values, so can you.
As you embark on your martial arts journey, remember that it's not about being perfect—it's about progress. It's about falling down and getting back up, about turning training into play, about persisting through challenges, and about being part of a community. It's about embracing your inner Rommie and diving into the journey with a wagging tail and an eager spirit.
So, whether you're stepping onto the mat for the first time or you're a seasoned martial artist, let Rommie's spirit guide you. Embrace the adventure, the ups and downs, the camaraderie, and most importantly, the joy of martial arts. After all, if Rommie can conquer a staircase, think about what you can achieve in the dojo!
Go forth, embrace your journey, and remember: be more like Rommie. Because martial arts, like life, is not a destination—it's a journey best traveled with a puppy's spirit.
To start YOUR martial arts journey, click the button below to enroll in our free 2-week test drive of the program:
4GK Martial Arts
380 East Main St
Patchogue, NY 11772
631-776-8060
---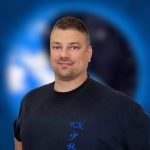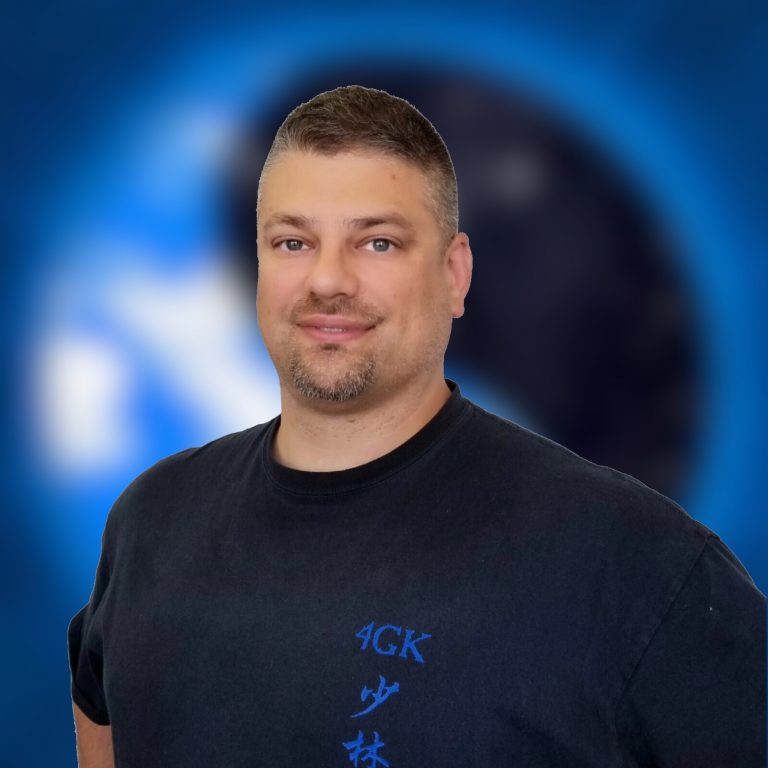 Author: Michael A Evans
Michael's journey in martial arts began in 1985, and he now proudly holds a 6th-degree black sash, mentored by Moises Arocho. As the founder of Vision Martial Arts in Patchogue, NY, he not only offers robust martial arts training for adults but is also deeply committed to childhood development. Through martial arts and various movement techniques, he empowers kids and adults to realize their potential and shine. Beyond the martial world, Michael wears the hat of an editor for Onward Science, and collaborates on the enchanting "Little Laurie Science Stories" book series and the Ninja Née Science Education Program. Educated at the NY College of Health Professions, he brings therapeutic relief to many as the lead massage therapist at Massage LI.